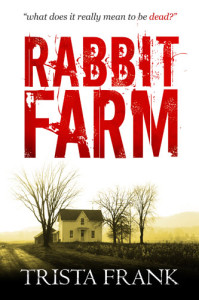 My first novel, Rabbit Farm, is now official available for sale.
It is available at Amazon, Apple iBooks, & Kobo, and should be up on Barnes & Noble in a few weeks (they take a bit longer).  View retailers here >>
It's ebook only at the moment, the print version is still getting formatted and will be available early next year.
So, what's it about?
Well here's the official 'blurb':
Only hours from being free, a group of ex-criminals are called to a desolate farm house for one last mission.  Cracks start to appear when they can't find the threat they were sent to eliminate and don't know what they are dealing with.  Frustrated, they intensify their search, as one by one they are eaten alive.
… which sums it up fairly well.
Desolate farm house – yep. Crazy monster type thingy – check. Characters that bite the dust – absolutely. Blood, darkness, gore – you bet.  A fun read – duh!
I hope you like it.
Trista 🙂
P.S. If I don't get to blog before the holidays, I want to wish everyone a healthy, safe, and peaceful Christmas and New Year.