I'm contemplating changing the cover of Rabbit Farm.
While I like the current cover, and I had it professional designed, I'm concerned that it doesn't convey Horror novel.
The only way people would be willing to take a look at it, is if they read the blurb, and even then it's ambiguous.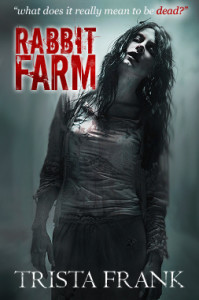 The cover I'm thinking about is this one (which I designed myself).
I like that it's dark and represents the genre better, and that it's unclear whether the woman is a zombie or not (which is the theme of the book).
If I decide to change it, (which I'll do over the weekend if I decide to go ahead), I also plan on dropping the price so that it can gain some traction before increasing it again.
What do you think? Keep the current cover or change to the new one?
Trista.
P.S. My head is abuzz with the next book in the series (yes I didn't know it was a series when I wrote it either, but I've learnt a lot since the first book and now a second (and possible third) idea is swimming through my mind).